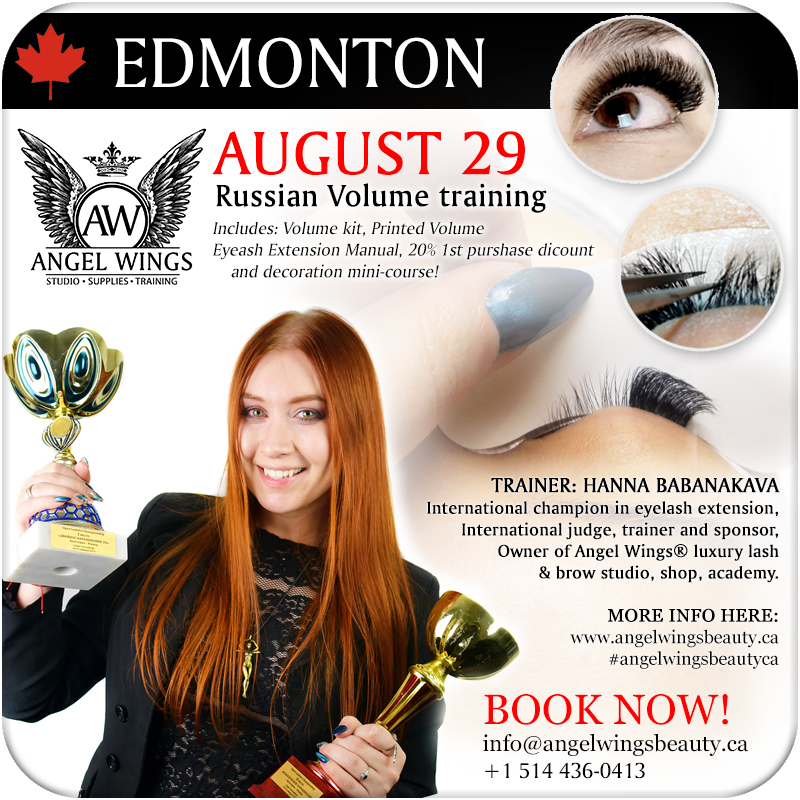 Dear Canadian Lash artists!
Finally, Angel Wings Academy goes to Edmonton, Alberta!
Hanna Babanakava (owner) is a multiple international champion and a judge in Eyelash Extension championships. It can be twice important for you to take part in this training as she is also an organizer of the first international Eyelash Extension Championship in Canada (Montreal) next may!
http://lashglobalchampionship.com
On a training:
– Basics in volume and over 10 volume techniques!
– Tips and tricks to help you succeed in volumes faster
– Best retention secrets
– Flawless outline
– Fade effect
– Kim Kardashian effect
– Eyeliner effect
– Reading of client's mind – what do they really want
– Pricing
– Decoration mini course
– …and much more!
MUST HAVE ON A TRAINING:
All attendees have to bring their model to 13.00. If you have any troubles to find a model, let us know as soon as possible.
IMPORTANT! You have to know classic eyelash extension technique and bring your lamp with you to use on a training!
Small coffee break is included, but you can take additional snack too.
All supplies to use on a training are included, but you have to have your regular kit so we could know what do you usually use.
PAYMENTS:
Price: 1690 CAD 1150 CAD!
Included: tax, snacks, volume kit (2 lash trays, volume tweezers, 1 glue), printed volume extension manual, supplies to use on a training.
To book a place 200 CAD deposit is required until July 25th. All payments have to be complete in full up to August 15.
The number of attendees is limited, be sure to book your spot!
ADDRESS AND TIMING:
11834 Kingsway AveEdmonton, AB T5G 3J5
Check on Google Map!
Timing:
8.30 – 12.00 – Theoretical part
12.00 – 12.30 – Coffee break
12.30 – 13.30 – Fan practice
13.30 – 20.30 – Practice on a live model
20.30 – 21.00 – End of training and evening tea =)
---
Contact us to book or ask any questions:
info@angelwingsbeauty.ca
+1 514 436-0413
---
CONTENTS
1-DAY INTENSIVE
(basic paragraphs):
Classic and volume – what's the difference
Types of volume extensions
Methods and styles of extension
Scheme of volume eyelash extension (types, effects)
New effects in extensions
– correcting imperfections of a natural lash-line
Individual modeling of the shape of the eyes with volumes
Familiarity with the materials for the extension
Choosing perfect materials
– tweezers for volume
– glue -//-
– lashes -//-
– other helpful supplies
Features of working with the instruments and supplies
Proper preparation of the workplace (sanitation tools, lighting, convenience for the master and client)
Timing
Contraindications to volume eyelash extension
3D-a-lot-of-D
"Right" & "Wrong" in lash fans
Correction of volume extension
Careful removal of volume extensions
New technologies in extension
Secrets and tricks of "pure" extension
Practicing fans
Practice of the acquired knowledge on a model
Analysis of errors
Question – Answer
+ eyelash decoration mini course as a gift
---
#angelwingsbeautyca #eyelashes #lashextensions #eyelashextensions #volumelashes #russianvolume #3Dlashes #5dlashes #megavolume #posedecils #extensiondecils #misencil #volumerusse #edmonton #lashesedmontonl #lashextensionsedmonton #eyelashextensionsedmonton #posedecilsedmonton #edmontonvolumeset #russianvolumeedmontonl #volumelashesedmonton #cilsedmonton #edmontoneyelashextensions
#lashtrainer #lashsupply #lashsupplies #eyelashsupplies #volumeglue #lashtraining #eyelashextensiontraining
TAGS: Eyelash extension, Eyelash extension Edmonton, Lash Extension Edmonton, Lash training, Eyelash training. Volume training edmonton, Volume extension, 2D volume, lashes, Russian volume, Mega volume, Edmonton, Angel Wings, AngelWingsBeautyCa, AngelWingsBeauty.Ca, Eyelash extension classic Edmonton, 2D eyelash extension Edmonton, Russian Volume eyelash extension Edmonton, Volume eyelash extension Edmonton, Mega volume eyelash extension Edmonton, Pose De cils Edmonton, Extension de Cils Edmonton, Pose Classique Edmonton, Pose 2D Edmonton, Pose 3D Edmonton, Volume Russe Edmonton,
Eyelash supply Edmonton Canada, Eyelash supplies Edmonton Canada, Eyelash glue buy Edmonton Canada